Study in Canada
Get a fully personalized list of programs in Canada that match your eligibility and aspirations.
See all programs in Canada
Why study in Canada?
Canada is an increasingly popular choice for international students because of its safety and cultural tolerance. You'll also receive a high standard of education in Canada in line with other countries such as the UK and US. Standards of living in Canada are high, and it's a great place for those who love the outdoors and sports.
French and English are the national languages of Canada and have equal importance. Studying in Canada could be a good option to brush up on your English skills, or even learn some French.
Search for a university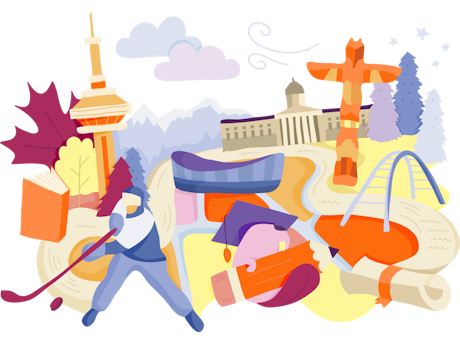 What are the best programs in Canada?
Canada offers a wide range of courses at all degree levels. If you're looking to do a bachelor's program, the average amount of time needed for completion is around three years, but in some cases could be four.
Some of the most popular places to study in Canada are business schools, medical universities and engineering universities. Whether you're looking to study for a BA, BSc, MBA or doctorate degree, Studee can help you find the perfect place to study in Canada.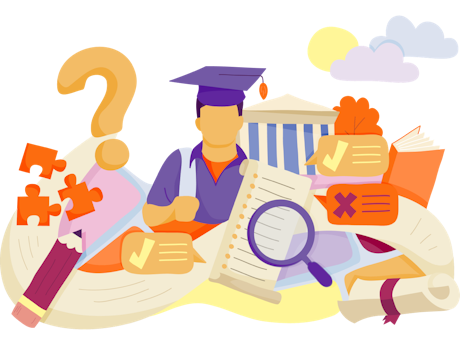 Find your perfect matches
We'll find you the best programs based on your aspirations and eligibility.
Quick and easy
It only takes a few minutes to get a fully personalized list of programs.
No catches
Get your full results without having to provide any contact details.
How Studee can help you
Find your best matches

See programs that best match your eligibility and aspirations

Application guidance

We'll get you to the right place to start your application

Visa & travel advice

Get help after application, all the way to your first day at university
Our team of advisors is ready to support you at every step of your study abroad journey.
Our services are 100% free for students like you because we're funded by universities.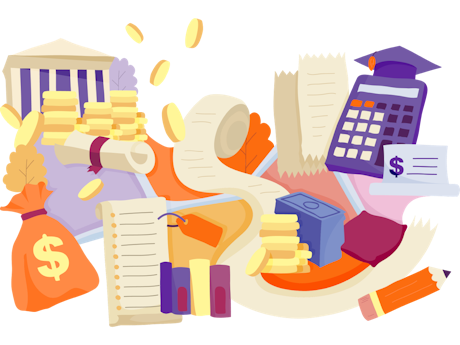 What is the cost of studying in Canada?
Studying in Canada is cheaper than in the US, and may even work out cheaper than the UK.
The average Canadian university fee for international students is around $25,000 a year but can vary greatly depending on the subject of study.
Student reviews for Canada
Lakehead University

Kinesiology

What's it like to study in Canada?

Love Canada, have lots of friends here, they take advantage of international students, but we really have no choice.

Lakehead University

Business

What's it like to study in Canada?

Canada lives up to its image of being a friendly country. In my time in Canada, I have seen multiple people whether on the bus, at university, or just around the city being nice to each or apologizing for a mistake that may or may not have been their fault. Although I have not visited many places yet, there is a lot of natural beauty that is to be seen whether it's in Vancouver or Toronto. I visited Toronto a few years back and it was an amazing experience. The public transport system was very fast, there would be a bus every 5 or 10 minutes. Every workplace I have worked at, my employers have always been kind and have always respected me and my work. I have not yet encountered any workplace issues. The cold was a little unexpected as Thunder Bay can have temperatures that can go to -40°C in the winter so I was a bit unprepared for that. The airports are great here, everyone is accessible if you have any questions. Overall, I would recommend any student to come to Canada for University.

Lakehead University

Psychology

What's it like to study in Canada?

A lot of what I said about the city can be generalized to Canada as well. Every time someone asks me what Canada is like I like to tell them about my first day here. I was waiting for a taxi arranged by Lakehead for my airport pickup with a volunteer from Lakehead who was from Egypt, the security lady we were talking to was from Mexico, and our cab driver was from the UK. There we were laughing on my first day, while all four of us were from different nations. This basically sums up what I feel about Canada. Everywhere I have been I have had the opportunity to meet people from different backgrounds and cultures. They all have stories and traditions which are equally fascinating, different, yet very similar. The people here are extremely kind, I have started the habit of saying sorry and thank you for things which were considered very basic in my home country. Even when you are just taking a walk and you see a cute dog, you just end up talking to the person walking the dog for literally hours true story, almost everyone here smiles when they are passing by someone and give each other a little nod sometimes.

Lakehead University

Earth Sciences

What's it like to study in Canada?

Coming to Canada was definitely a culture shock for me. As English is not my main language, it definitely took some time to get use to the Canadian slangs. If you were to ask me three years ago if I could watch the show Letterkenny (Sitcom about a small rural community in Ontario) and understand the slangs they were using, I wouldn't be able to tell you what the episode is about.
I made so many friends here that bring me around Ontario and introducing me to their cultures and festivities. I quite enjoy Thanksgiving in particular, it's always nice to make the food together for everyone in their family to enjoy.
I find that Canadians are very wholesome, they truly care about your well-being. I am very happy to announce that I have my Canadian families to rely on in dire times.
So far I was only able to visit Ontario and Quebec. I hope to expand my horizons by visiting the other provinces! My ultimate goal is to see the Northern Lights and to see a Moose. Can you believe I have not seen a moose yet?

Lakehead University

Chemistry

What's it like to study in Canada?

Canada is a very cold but big country with lots of opportunities and also the citizens are very kind and willing to help at any time.
Key facts
Canadian Dollar $

Currency

2 million

Student population

English and French

Languages
Where can you study in Canada?
Canada's largest cities are often the most popular for international students for example Toronto, Vancouver, and Ottawa. Canadian provinces and their cities each have something different to offer, so it's worth doing research into what might suit you best.
What are the requirements to study in Canada?
Qualifications
Specific program requirements will be set by the university and may differ between programs. Often you will need to specify your secondary education system for the university to determine whether or not you meet their qualification standards.
English language tests
Canadian universities often prefer the IELTS academic test as a method of proving your English language abilities. Many universities do also accept a TOEFL iBT score, but always check a program's specific requirements.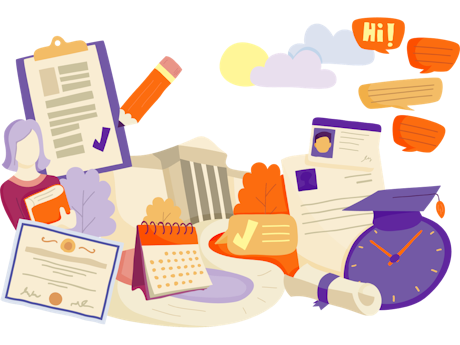 Canada student visa
You'll need a Canadian study permit if you are an international student in Canada. If your student visa is for a full time undergraduate or postgraduate degree you'll be able to work part time during term time (up to 20 hours a week), and full time during university holiday periods.
Canada student visa requirements
How to study in Canada
Find a university and program you wish to study in Canada
Complete the online application form on the university's website
Pay the application fee and submit the application
Send any requested documents to the university. This may be via online upload or through the post.
Send your official transcripts to the admissions office
Receive an offer letter from the university
Accept your offer. This may require paying deposits for tuition or accommodation
Apply for your Canadian Study Permit
Alternative countries to consider