Study business abroad
Get a fully personalized list of business programs that match your eligibility and aspirations.
See all business programs
See your perfect business programs abroad
Tell us a bit about yourself and your study plans to filter your results so you only see the programs that are right for you.
Find other programs in business
Business degrees abroad
Business degrees are one of the most popular subjects for international students to study abroad. A degree in business can open up a huge number of career opportunities, and choosing to study abroad can give you an edge in a competitive market.
Studying business overseas means you'll not only experience a new culture and way of life, but also gain an insight into how business works in a different country.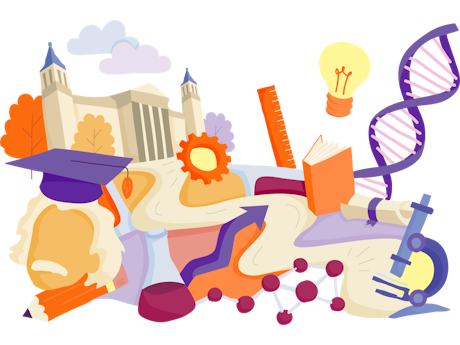 Business program structure
Business is a huge field of study, and what is covered in a business degree program can vary greatly. Business degrees also come under many different names and guises, so it's important to understand the program curriculum and structure before you apply.
Typical business degree modules include:
Accounting/management accounting
Marketing/digital marketing
Economics
Micro/macroeconomics
Entrepreneurial management
Business research
Business information systems
There is usually the option during your degree to choose optional modules alongside the compulsory ones. These can help you tailor your program to focus on the areas you find most interesting, and that best match your career plans.
The exact course structure and curriculum will depend on the program you're studying. Most business undergraduate degrees will take three or four years to complete, and some offer a year abroad or at work as part of the program.
Business programs are usually taught through lectures, tutorials and classes, and independent study. Assessment will be a combination of essays, projects, dissertations and written exams.
Types of business degrees
Business is a huge area, and there are many different programs that sit under the subject. Some universities refer to business in different ways, or offer programs that specialize in a specific area, including:
Business administration
Business management
International business
Economics
Marketing
Accounting
Finance
Human resource management
Hospitality, leisure and tourism management
Entrepreneurship
Logistics
Taxation
There are many other program options available, and the name given to programs can differ from university to university. That's why it's important to look carefully at the structure and scope of the curriculum to make sure the program you choose is the right one for you.
Why study business abroad
Business degrees are widely ranked as the most popular option for international students to study abroad. It's not hard to see why; studying business overseas opens you up to a huge number of programs at some of the best business schools in the world.
Choosing to study abroad means you'll be able to experience excellent teaching and a different country's approach to business. Although you'll learn all about international business in the classroom, when you study abroad you can see first hand how it works, and even spend time in and internship in an international business.
If you want to work in the business sector in another country, studying there is a great way to start your journey. It will also help you make connections with businesses and other students that could be useful connections in your future career.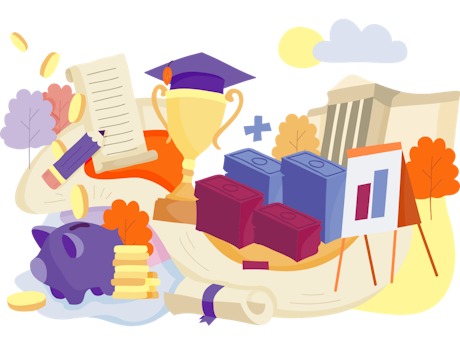 Where to study business abroad
If you've made the decision to study business, you'll be faced with a huge number of program options, from universities all over the world. To help you make the right decision, think about:
What area of business do you want to study?

There are a wide range of business programs you can choose from, so work out exactly what you want to study to help narrow down your search.

Is there a specific industry you want to work in?

Consider locations that offer business opportunities that match your career aspirations. For example, some cities are renowned for their finance sector, others for tech or digital industries.

What university experience do you want?

Your time outside the classroom is really important, so take things like the student life of the university into account. Consider the activities, accommodation and support services offered by the university when applying.
Deciding where you'll live and study for potentially several years is a huge decision, so take the time to make sure you make the right one. For more help, read our guide on choosing where to study abroad.
Best countries to study business
If you want to study in a country that offers the most highly regarded business programs, look no further than the US and UK. Both offer several business schools and colleges that are consistently ranked as the best in the world.
France is another country that offers many of the top business programs and business schools. Germany is an attractive option, not only because of the quality of its business courses, but also because it is a global center for industry, trade and finance.
Away from Europe and the US, Singapore and Hong Kong lead the way in Asia, along with China. Australia is another up and coming destination, with a number of highly ranked business schools available to international students.
Best universities to study business
When it comes to studying business abroad, you can attend a large multi discipline university, or a specialist business school that purely focusses on business programs.
When looking for the best university to study business, it's worth thinking about:
What the program covers
If there are any internship or a year abroad included in the course
What the university offers in terms of student life
Where the university is located, e.g. do you want to live in a city or a more rural area?
It's worth considering all these aspects when you're making your decision on what university you want to attend, as well as how well the program is ranked.
See all universities offering business programs
How to study business abroad
Find your best matches

See programs that best match your eligibility and aspirations

Application guidance

We'll get you to the right place to start your application

Visa & travel advice

Get help after application, all the way to your first day at university
Our team of advisors is ready to support you at every step of your study abroad journey.
Our services are 100% free for students like you because we're funded by universities.
Business study abroad programs
The choice of business program and degree you can study abroad is huge. You can study a BSc or BA over three or four years at undergraduate level, or you can study for a diploma that usually lasts a year.
If you're a graduate, you can study a master's in business immediately after completing your bachelor's degree. However, you can study for an MBA after having at least three years of work experience, usually in a business or management role.
An MBA, or Master of Business Administration, is a very popular, competitive and prestigious qualification that is designed to enhance your career opportunities. An MBA from a good business school abroad is likely to act as a big boost for your CV.
Business undergraduate programs
Business graduate programs
Search all of our business programs
Just tell us a bit about yourself and your study plans and we'll show you the right business programs for you.
Find your perfect matches
We'll find you the best programs based on your aspirations and eligibility.
Quick and easy
It only takes a few minutes to get a fully personalized list of programs.
No catches
Get your full results without having to provide any contact details.
Find your perfect programs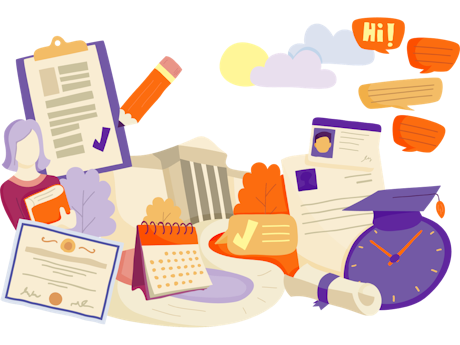 Entry requirements to study business abroad
To study business in another country you'll need to meet the university's entry requirements. The exact requirements will differ depending on the country and university you're applying to, but here's the minimum you'll need:
To have completed secondary education with satisfactory grades - some programs request you have good maths grades, but many don't specify specific subjects
A personal statement that outlines your interest in the business
Relevant academic references
A bachelor's degree (BA or BSc) in business to study at postgraduate level
Several years of work experience and a bachelor's degree to study an MBA
Always check the entry requirements and what grades or GPA you need, and make sure you can meet them before you apply. Here is more on how to study abroad.
Future business careers
A business degree is hugely versatile and opens up loads of potential career options after graduation. The pathways are almost endless, but some of the most popular careers for business graduates include:
Marketing
Human resources
Sales
Management consultancy
Hospitality management
Project management
Data analysis
Retail management
Insurance
Banking
If you know what career you want to go into, make sure the program you choose includes all the skills and knowledge you'll need for your career of choice.