Study civil engineering abroad
Get a fully personalized list of civil engineering programs that match your eligibility and aspirations.
See all civil engineering programs
See your perfect civil engineering programs abroad
Tell us a bit about yourself and your study plans to filter your results so you only see the programs that are right for you.
Find other programs in civil engineering
Civil Engineering degrees abroad
Civil engineering is all about the design and building of major infrastructure and construction projects like roads, bridges and buildings. It's an essential role that helps build the towns and cities we live in and connects the world around us.
It's one of the oldest engineering subjects, and is a popular option for international students to study abroad. Civil engineering degrees are available in universities all over the world, at all levels of study including bachelor's, master's and doctorate levels.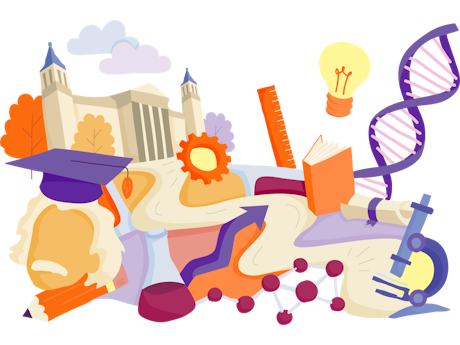 Civil Engineering program structure
The structure and course content of each civil engineering program will differ from university to university. For example, some programs share the first year across several engineering disciplines including civil, mechanical and electronic engineering to help you get an understanding in all three areas.
Most civil engineering programs are made up of compulsory modules, but some do offer optional or elective courses you can take to help you personalise your degree. Most undergraduate programs last three or four years, and some have the option of an additional year abroad or in placement.
The learning methods will include a mixture of workshops, group work, and hands on practical work. The program will also include lectures, seminars and tutorials, and you'll be assessed through exams, presentations, coursework, as well as a final year dissertation or project.
During an undergraduate civil engineering program you'll cover a number of areas and modules, including:
Engineering mathematics
Mechanics, materials and structures
Fluid mechanics
Soil mechanics
Structural engineering
Engineering design
Types of civil engineering degrees
Civil engineering is a specific area of engineering, however there are specializations and associated degrees that focus on a specific area of the subject. They include:
Structural engineering
Architectural engineering
Transportation engineering
Geotechnical engineering
Environmental engineering
Hydraulic engineering
Quantity surveying
Construction management
Town planning
These areas focus on subjects related to civil engineering, so might be worth considering if they better match your interests and career aspirations.
Why study civil engineering abroad
Studying civil engineering abroad means you can access to some of the very best programs, universities and engineering schools in the world. It also means you'll get to experience a different approach to the subject, which can help broaden your understanding and expand your perspective.
Making the big decision to live and study in another country is also a fantastic opportunity to encounter new cultures, meet new people and improve your language skills. It can also help stand out to employers and show your willingness to try new things.
Find out more about the benefits of studying abroad.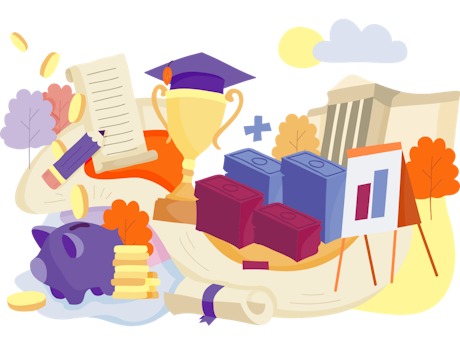 Where to study civil engineering abroad
Deciding where in the world you want to study civil engineering will have a huge impact on your studies and your quality of life, so it's important you think carefully. To help you make the right decision, think about things like:
The sort of country you want to live in

You could be studying abroad for three or more years so make sure it's somewhere you want to live. Think about the climate, culture and lifestyle you want when making your decision.

How long you want to study for

Think about what level of degree you want to study and how quickly you want to graduate. For example, in some countries you could achieve a master's in four years, but it could take at least six years in others.

The quality of the program

If your main concern is studying at the best or most highly respected university possible, look at the rankings for civil engineering programs and focus your search on those at the top.
If you plan to return home to work after graduation, make sure the program you study is recognized by the governing body in your home country. For example, degrees need to be recognized by the Council of Civil Engineering in the UK for you to work as a chartered civil engineer.
Here's more help on how to choose where to study abroad.
Best countries to study civil engineering
The countries that offer the best and most widely respected civil engineering degrees include the US, UK and Singapore. These countries all offer some of the world's most highly ranked programs and are popular destinations for international students.
Canada is another well regarded civil engineering destination, thanks to its advanced economy and diverse natural resources. The Netherlands also offers some of the best programs and has a well developed infrastructure and transport system. The Netherlands also offers some of the best programs and has a well developed infrastructure and transport system.
Best universities to study civil engineering
There's a huge range of institutions that offer civil engineering programs abroad, including large multi discipline universities, specialist engineering schools or technology colleges and universities.
To help you work out which university is the best for you to study civil engineering at, think about:
The content and structure of the program the university offers
If the university's program includes a year in industry or a year abroad
What the university offers outside of the classroom - does it have a student union, or any sports teams for example
What sort of campus you'd like to live on, e.g. in a city or a leafy suburban area
It's also worth researching the reputation of the university's civil engineering courses, but don't base your decision solely on how highly ranked they are.
See all universities offering civil engineering programs
How to study civil engineering abroad
Find your best matches

See programs that best match your eligibility and aspirations

Application guidance

We'll get you to the right place to start your application

Visa & travel advice

Get help after application, all the way to your first day at university
Our team of advisors is ready to support you at every step of your study abroad journey.
Our services are 100% free for students like you because we're funded by universities.
Civil Engineering study abroad programs
There are several different types and levels of civil engineering degree you can choose to study abroad undergraduate, graduate and doctorate levels, including:
BSc
B.Eng (Bachelor of Engineering)
MSc
M.Eng (Master of Engineering)
PhD
Doctor of Civil Engineering (Eng.D or D.Eng)
At undergraduate level you can study a B.Eng or M.Eng, with the bachelor's option lasting for three or four years and the master's lasting four or five years.
Many programs let you decide whether to study for an M.Eng after your second year, or remain on the B.Eng program. However, you will need to have achieved certain grades up to that point in order to study the M.Eng program. However, you will need to have achieved certain grades up to that point in order to study the M.Eng program.
Civil engineering undergraduate programs
Search all of our civil engineering programs
Just tell us a bit about yourself and your study plans and we'll show you the right civil engineering programs for you.
Find your perfect matches
We'll find you the best programs based on your aspirations and eligibility.
Quick and easy
It only takes a few minutes to get a fully personalized list of programs.
No catches
Get your full results without having to provide any contact details.
Find your perfect programs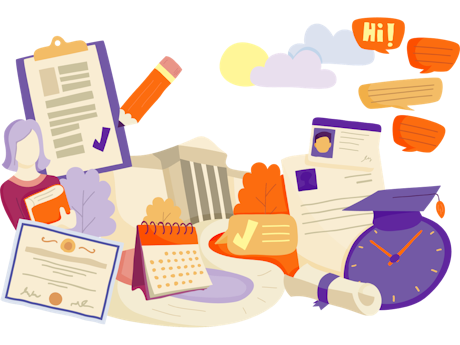 Entry requirements to study civil engineering abroad
Standard entry requirements for international students to study civil engineering include:
Secondary education with good grades in maths and science subjects
A personal statement displaying your interest in the civil engineering
Academic references
A bachelor's degree (B.Eng or BSc) in civil engineering to study at postgraduate level
The exact requirements and acceptable grades will differ by program and university, so check their website carefully before you apply. Here is more on how to study abroad.
Future civil engineering careers
A degree in civil engineering will set you up for a job in the construction industry, but it's also possible to find work in other sectors like finance, business and management. Jobs that are related to civil engineering degrees include:
Civil engineer
Design engineer
Nuclear engineer
Site engineer
Structural engineer
Construction manager
Patent lawyer
Quantity surveyor
Urban designer
If you know what career you want to pursue after your degree, make sure the program you choose helps you achieve it.