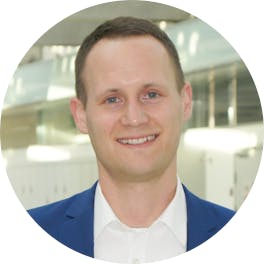 Dr Alexander Brendel-Schauberger
Dr Alexander Brendel-Schauberger says
My university is a great place to study because first and foremost it offers top-level education is highly relevant fields. Especially the master's programs are very international, so you'll meet new colleagues from all around the world and build a great network for your future career.
Additionally, Wels is an up-and-coming place located in the heart of Austria, so you'll easily reach great cities like Vienna or Salzburg as well as the beautiful Austrian mountains.
My favorite thing about our university is the personal relationships that are built between professors and students. Since our programs have only limited participants, I know all of my students by their names and can build my lectures around their specific backgrounds and specialized interests.
International students are guided through our institution from the first day they are with us. Our dedicated International Office is there for them for all matters and organizes events like our super famous International Week, where all the new international students have the chance to present themselves and their home countries.
What I liked most in this semester was the "International cook with me program" where (due to Covid19), international students prepared a typical dish from their home country and everyone could follow and cook along via a live stream.
99% of our students have a job after graduating, most of them get multiple job offers before they even graduate. Since Upper Austria is an industrial hub with many manufacturing companies and automotive suppliers, there are numerous opportunities and as most of these companies operate globally, they are continually searching for well-educated, international staff in fields like engineering, software and hardware development, innovation, and product management.