Study in Lucerne
Get a fully personalized list of programs in Lucerne that match your eligibility and aspirations.
See all programs in Lucerne
Why study in Lucerne?
A city in central Switzerland, Lucerne is a popular tourist destination thanks to its lakeside location and stunning mountain views. The city is also well known for its picturesque old town and colorful architecture, making it an attractive prospect for international students. Lucerne hosts a number of festivals throughout the year, including a popular winter street carnival.
Lucerne is home to a number of universities, so there are always student events taking place in the city. The city has a good transport network, although getting around by foot is also an option. Lucerne train station links the city to the rest of Switzerland, and its location at the center of Europe makes exploring other countries easy for students that want to see other countries.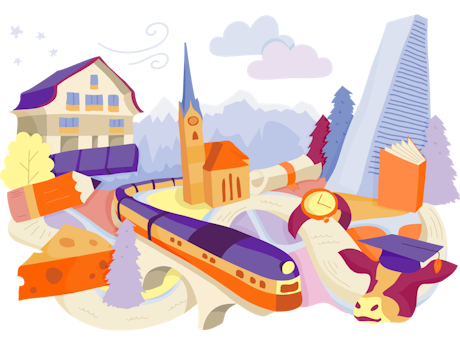 Student reviews for Lucerne
Business and Hotel Management School

Business Administration

Tell us about Lucerne

Switzerland is classified as one of the safest countries in the world. Therefore, I personally feel that Lucerne is my second home after all. Easy transports links to everywhere, variety of shops that students can find, a different type of nightlife that students can enjoy during the weekend, beautiful old city and lake just near BHMS where students can spend their leisure time.

Business and Hotel Management School

Hospitality Management

Tell us about Lucerne

The school is located in city called Lucerne, it is a very safe place. Transportation here is also very convenient. You can find everything here as well to fulfil your social life. There's are supermarkets, gyms, beaches, swimming pools, spsa, clubs, bars, whatever you want.

Business and Hotel Management School

Hospitality Management

Tell us about Lucerne

Lucerne is a nice city with plenty of venues for relaxing walks and lots of history.

Business and Hotel Management School

Culinary Arts

Tell us about Lucerne

Each person that I came into contact with, whether it was a stranger or school mate, was very welcoming and warm-hearted.
I felt as though I didn't need to worry about being far away from my family. The country, the school and the environment is very safe.
The atmosphere and the sceneries are to die for - absolutely breath taking!

Business and Hotel Management School

Hospitality Management

Tell us about Lucerne

I feel very safe in Lucerne and everywhere in Switzerland! No doubt about that! Due to the language barrier, the Swiss people will always put in the effort to greet you or to offer their assistance when needed.

There are bus stops every 150 metres in Lucerne, however, I tend not to use them as it's nice to walk around Lucerne with its fresh and cool breeze.

All essential items are provided within a 15-minute walk from the campus and shops are easily accessible. Like most places in Europe, bars & clubbing are often the nightlife found in the city.
How Studee can help you
Find your best matches

See programs that best match your eligibility and aspirations

Application guidance

We'll get you to the right place to start your application

Visa & travel advice

Get help after application, all the way to your first day at university
Our team of advisors is ready to support you at every step of your study abroad journey.
Our services are 100% free for students like you because we're funded by universities.