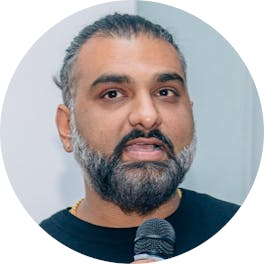 Akash Amin
Akash Amin says
I believe Full Sail is a great place for international students given the diversity of students that come here. One important factor for international students is the ability to fit in and adjust to the new environment. Students join us from all over the globe to pursue degrees within Entertainment, Media, Arts, and Technology, and they all have one thing in common - creativity!
Full Sail has a large international team on campus along with representatives located in several countries across the world including Mexico, Colombia, Brazil, Trinidad, India, China, Mauritius, South Korea, and Vietnam. Welcoming students to be part of the Full Sail family is something we look forward to every day.
While there are many unique aspects, in my opinion, how students learn at Full Sail really tops the list. Full Sail provides a fast and focused education which not only allows students to complete their degree in about half the time as a traditional university but also exposes them to a project-based curriculum.
The aim is to best prepare our students for the industry, providing more of a hands-on approach to education. When I think about Entertainment, Media, Arts and Technology, I truly believe that the more hands-on experience you have, the more projects you have worked on, snd the broader your portfolio will give you an edge in today's workforce.
In addition to the hands-on education, students also have the opportunity to be able to work on real projects with professional companies such as the WWE which can really add to their resume.
When it comes to services for international students, I believe this is something we do really well. With the staff we have in place to service our international students, there is no situation too big or small that we will not be able to assist with.
We are part of the student's entire journey, from the first interaction with Full Sail all the way to graduation and beyond. If I am to speak to the facilities at Full Sail, I would confidently say that the facilities are second to none! Being on campus feels more like working in a collaborative creative studio.
From live venues to production studios, to a Hollywood-style backlot, our spaces are designed for hands-on learning — giving students the environments, technology, and production tools to bring ideas to life. I would urge students to take a virtual tour of the campus to see how amazing it is but be advised that there are no words that would explain how amazing it is to see it in person.
I firmly believe that career opportunities upon graduation will ultimately depend on the student, however, we put our best foot forward to prepare the student. If we look at the Entertainment, Media, Arts, and Technology industries, it is clear that these industries are not going to disappear, rather they continue to evolve.
This tells me that jobs will always be available, and if you tie in the way Full Sail's education model, the resources that are offered, and our career development team, I believe students graduating from Full Sail have great career opportunities post-graduation.