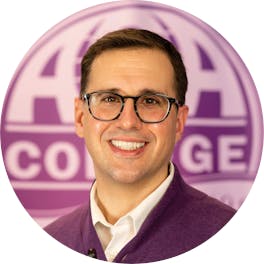 Christian Perticone
Christian Perticone says
We understand international students and their needs, and we offer so many different avenues of study for them. Whatever native language students speak, we have someone at ASA College who also speaks that language.
We currently have students from every region of the world studying at ASA, so students will find community quickly. Truly, cultural diversity is what makes us special. We take great pride in having international students.
Also, we offer many different language training options. We've got relaxed classes that involve projects, conversation, and trips around the city.
We've got fast-paced academic preparation classes, and we have Business English classes for those who are focused on professional training. After any of these programs, students have a wide variety of career preparation options via associate degree programs.
Students love the combination of location, flexibility, diversity, and support. We are located in the center of Manhattan. We offer so many types of schedules. We have students from all over New York and all around the world. Our school isn't huge, so we know all our students and treat them as special individuals.
Our services are very personal and individualized. We take care of students. They have the contact information of professors and representatives, and they always know who to go to for help.
Students from other countries are generally impressed by our facilities and location. All my students can contact me through Whatsapp if needed.
Our students have so many options. They go on to study at famous colleges and universities. They return to their countries with better English and an American degree, and they thrive.
They also find work here because we offer degrees in in-demand fields like tech and medicine. One of my former students just got into both NYU and Parsons. He had to choose!