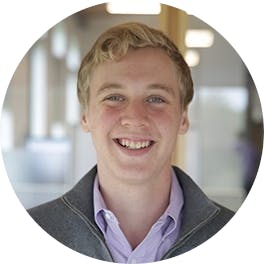 Dalton Lewis
Dalton Lewis says
Hampshire is a small, tightly-knit community, so it's easy for international students to feel at home as soon as they arrive on campus. At Hampshire, you're not just a number! At the same time, our international students are part of the much larger Five College Consortium community—which connects them to thousands of other international students.
Hampshire students have access to the nearly 7,000 classes and 1,000 student organizations offered by the Consortium Colleges, so there are endless opportunities to make new friends and enjoy new experiences!
Hampshire offers something that's hard to find in the US, let alone the rest of the world: an education that requires students to build their own customized, interdisciplinary programs of study.
Our students want to make their own education, rather than just take it! Throughout the process of building their curriculum, students are supported by hand-picked faculty advisors have access to the vast resources of the Five College Consortium.
Our support for international students begins with International Student Orientation, in which students learn about adjusting to life in the US, navigating campus resources, and getting settled in their dormitories.
International students at Hampshire are supported by a dedicated International Student Advisor who provides visa/travel planning assistance, OPT/CPT advising, and workshops covering a variety of other topics.
Hampshire also has a space on campus dedicated to international student use, the World Lounge, offering students a place to chat, study together, and host events. Finally, Hampshire offers a wide range of student groups serving international students as well as numerous events and celebrations catering to students of different cultural backgrounds.
Hampshire's alumni include notable entrepreneurs, an Academy Award-winning actor, and a senior NASA scientist—to name just a few!
A Hampshire education prepares students for a variety of different post-graduate paths, but the most popular one is obtaining a graduate degree: 65% of Hampshire alums receive an advanced degree within ten years of graduating, putting us in the top 3% of US colleges for graduate degree placements rates.
The top five most frequently attended graduate institutions for Hampshire alums are Columbia University, the University of Massachusetts, New York University, Harvard University, and Yale University.
While many of our students choose to jump right into the workforce after graduating, Hampshire is also a great place to develop entrepreneurial skills. 23% of Hampshire alumni have started their own businesses or non-profit organizations; a few examples of companies founded or co-founded by Hampshire graduates include Duolingo, Seventh Generation Inc., and Florentine Films.