Study teaching abroad
Get a fully personalized list of teaching programs that match your eligibility and aspirations.
See all teaching programs
See your perfect teaching programs abroad
Tell us a bit about yourself and your study plans to filter your results so you only see the programs that are right for you.
Find other programs in teaching
Teaching degrees abroad
A teaching degree abroad will focus on the skills needed for teachers in a specific area of education for example elementary level, foreign languages, or a UK PGCE.
In a teaching program you will learn theoretical practice to get the most from students, as well as a lot of practical learning and assessments to ensure you have the necessary experience to teach. The exact teaching program you choose will be shaped by the country you are studying in. It's important to ensure that any teaching program you choose will be useful in the country you are wanting to work in too.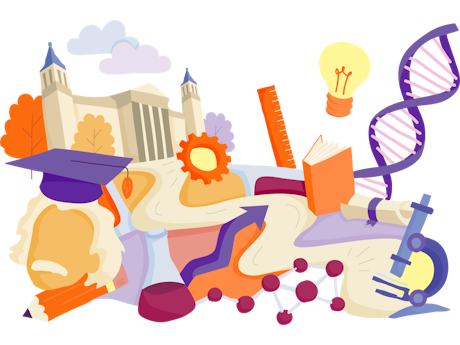 Teaching program structure
To begin a teaching specific program, universities often require a bachelor's degree in any field. On a liberal arts degree you could have the opportunity to major in a specific form of education, which may help your application onto a teaching specific program. In the UK, your bachelor's degree may influence the subjects you are able to teach at a higher level.
Many postgraduate teaching programs such as a master's in education are used by those already teaching to enhance their careers. This is the same for those who decide to undertake a PhD in teaching.
As a teaching student you will spend a lot of time getting practical experience. This may be through placements, work experience or assessed classroom situations. In addition to this, your theoretical education will take place in lectures and classes talking through research and best practice.
When you begin a teaching specific program there are many areas of teaching you may cover as modules of the course; these may include:
Pedagogy
Curriculum and planning
Types of teaching degrees
Best countries to study teaching
How to study teaching abroad
Find your best matches

See programs that best match your eligibility and aspirations

Application guidance

We'll get you to the right place to start your application

Visa & travel advice

Get help after application, all the way to your first day at university
Our team of advisors is ready to support you at every step of your study abroad journey.
Our services are 100% free for students like you because we're funded by universities.
Teaching study abroad programs
Teaching undergraduate programs
Teaching graduate programs
Future teaching careers
The specific teaching program you graduate from will determine your career within teaching. For example a teaching program focused on elementary level will not automatically enable you to teach at a higher level, as additional qualifications may be needed.
Some of the popular teaching programs that lead to careers in their specific branch of teaching include:
Foreign language teaching
Elementary school teaching
PGCE (UK secondary school level)
Special needs teaching
Preschool teaching