Study broadcasting abroad
Get a fully personalized list of broadcasting programs that match your eligibility and aspirations.
See all broadcasting programs
See your perfect broadcasting programs abroad
Tell us a bit about yourself and your study plans to filter your results so you only see the programs that are right for you.
PhD programs in
broadcasting

No programs listed
Find other programs in broadcasting
Broadcasting degrees abroad
Broadcasting is the recording and transmission of news and information through various platforms including radio, television, the internet and social media. Students studying broadcasting programs will have the opportunity to learn about recording, filming, writing, producing, presenting and editing content.
Broadcasting is one of the fastest-changing professions in today's world. Advancements in technology mean that we can now report and access news from almost every corner of the globe. By studying broadcasting abroad, you'll see its growing global nature first-hand and will be equipped with the tools to excel in an increasingly competitive media landscape.
It's a great idea to study broadcasting abroad not only because of the wide range of programs on offer, but also because you'll develop both personally and professionally. To succeed in broadcasting, you'll need to be able to immerse yourself in new environments, communities and cultures. By experiencing and exploring new places while studying, you'll gain these vital industry skills.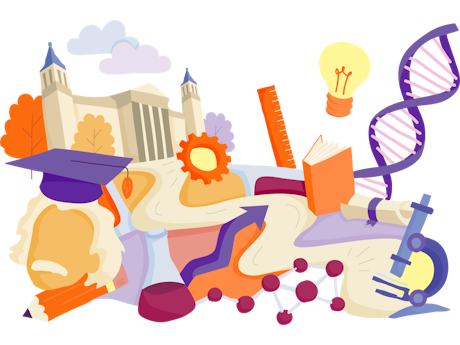 Broadcasting program structure
Broadcasting can be studied all over the world, but how it's studied will depend on the type of program and the country you're in.
If you're an international student in the US, there are various ways to study broadcasting, including a one-year certificate program or a two-year associate degree. However, broadcasting is most traditionally studied as a major or minor component of a four-year BA or BSc degree. The US liberal arts model means that you would spend a certain amount of time and credits on broadcasting-specific modules.
Broadcasting can be studied as a stand-alone subject at both master's and doctorate level in the US.
In the UK, you can study broadcasting as a single-honours or a joint-honours course. This means that you can study it by itself or alongside another subject. Master's and doctorate programs are available in the UK.
Broadcasting programs will usually be made up of a combination of theoretical lectures and practical classes where you'll have the chance to use industry-standard equipment. There will also be small-group workshops, personal tutorials and individual study time.
Broadcasting programs may differ in name. For example, similar programs may be called 'multimedia', 'broadcast communications', 'media and communications', 'broadcast television and radio', or similar titles. Although the structure and content of these programs will differ, they will typically include the following areas of study:
Film and television production practices
Editing for film, television and video
Mass communication law
Audio production and editing
Presenting and writing for broadcast
Broadcasting ethics
Researching and newsgathering for broadcast
Types of broadcasting degrees
Best countries to study broadcasting
How to study broadcasting abroad
Find your best matches

See programs that best match your eligibility and aspirations

Application guidance

We'll get you to the right place to start your application

Visa & travel advice

Get help after application, all the way to your first day at university
Our team of advisors is ready to support you at every step of your study abroad journey.
Our services are 100% free for students like you because we're funded by universities.
Broadcasting study abroad programs
Broadcasting undergraduate programs
Broadcasting graduate programs
Master's in broadcasting
Broadcasting and Mass Communication/Business Administration - Dual BA/MBA State University of New York at Oswego, USA

Program type

Bachelor's/Master's

Duration

4 years

Annual tuition fee

18,627 USD

Fee in university's local currency 18,627 USD

Start date

January, August

about Broadcasting and Mass Communication/Business Administration
See all master's degrees in broadcasting
Search all of our broadcasting programs
Just tell us a bit about yourself and your study plans and we'll show you the right broadcasting programs for you.
Find your perfect matches
We'll find you the best programs based on your aspirations and eligibility.
Quick and easy
It only takes a few minutes to get a fully personalized list of programs.
No catches
Get your full results without having to provide any contact details.
Find your perfect programs
Future broadcasting careers
As a broadcasting graduate, you'll be well placed to begin a career in the media industry. With the knowledge you'll have gained about researching, presenting, editing and producing, you'll have the right tools to excel in roles including:
Broadcast journalist
Studio manager
Media researcher
Television/film/video producer
Camera operator
Studio technician
Video editor
Videographer
Careers in media are very competitive and can come down to how much real-world broadcasting experience you've gathered during your studies. So, it's a good idea to make the most of any extracurricular media activities that may be offered to you and to try and secure internships and placements during university holidays.