Why study in Nizhny Novgorod?
Nizhny Novgorod, known locally as just Nizhny, is a charming city in Western Russia. Located on the banks of the Volga and Oka rivers, Nizhny is a powerhouse of Russian culture, politics, finance, and scientific research.
Nizhny is a vibrant and dynamic city that offers something for every kind of international student. Best known for its stunning hillside kremlin, the city is also home to a great selection of museums, galleries, music concerts, traditional restaurants, and boutique shops.
Travel in style to Moscow or St. Petersburg by hopping aboard a river cruise, or get a bird's-eye view of Nizhny by taking one of the city's cable cars. Nizhny's international airport is just a short drive away, making it easy for you to fly home or explore another corner of the globe during the university holidays.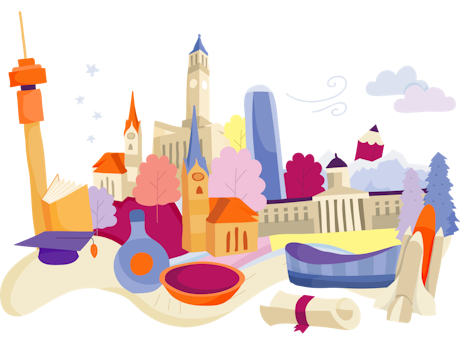 Universities in Nizhny Novgorod
Student reviews for Nizhny Novgorod
Nizhny Novgorod State University

Early Childhood

Tell us about Nizhny Novgorod

I'm enjoying Edmonton. The people are very welcoming and friendly and the atmosphere is relaxing and calm. I especially love the restaurants and the variety of cuisines they offer. I enjoy shopping and one of my favourite places to shop is West Edmonton Mall. It's absolutely beautiful and enormous with a wide range of stores and boutiques to choose from.

Nizhny Novgorod State University

Business Administration

Tell us about Nizhny Novgorod

I feel safe and very content, transportation and rental facilities are great.

Nizhny Novgorod State University

Business Administration

Tell us about Nizhny Novgorod

My city Edmonton is really beautiful. It's not a big place but it has shopping malls where I can buy the necessary items. Not only this but also I feel safe during the night whenever I go out of my house.

Nizhny Novgorod State University

Pharmaceutical Sciences

Tell us about Nizhny Novgorod

I live in Edmonton. I actually love the city. I am a fan of Edmonton downtown (love the buildings). I feel a lot safe and welcomed here. Transportation is really great. There are so many malls and other facilities to go and enjoy. I like the public libraries a lot. This city has everything a person needs. It does snow a lot here but I do like snow (unless I am not going outside). The weather is so unpredictable here but it's really good in spring and summer. There are so many lakes to visit. And I love that my family is here.

Nizhny Novgorod State University

Disability Studies

Tell us about Nizhny Novgorod

Upon landing in Edmonton, me and my family really felt the difference of staying here than in other cities of other countries in terms of hospitality, kindness of other people, positivity, safety and opportunity. I think all cities in Canada are nearly the same positively speaking.
How Studee can help you
Find your best matches

See programs that best match your eligibility and aspirations

Application guidance

We'll get you to the right place to start your application

Visa & travel advice

Get help after application, all the way to your first day at university
Our team of advisors is ready to support you at every step of your study abroad journey.
Our services are 100% free for students like you because we're funded by universities.