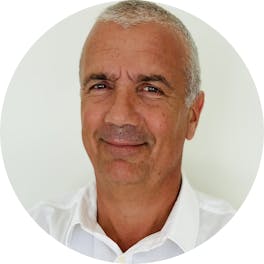 Dr Floris van Haren
Dr Floris van Haren says
GHU's Online Study is a system with in-built artificial intelligence that is operated via e-learning and allows students to pursue their studies whenever, however, and wherever they wish.
The GHU's online degree programs are offered exclusively through the internet. It includes the Internet-based campus, online instruction by lecturers and professors, and supported virtual learning.
You will move forward professionally because you will have proven that you can master the following abilities as an online student:
flexibility
self-paced learning
improved time management
enhanced self-organization
critical-thinking skills
self-motivation
virtual communication
virtual collaboration
a broader, global perspective
self-reflection
new technical skills
Online courses are more effective because the GHU provides the materials for each student, the lectures (recorded) are attended virtually by all students, and the recorded lectures can be repeated and replayed at any time.
You study in your environment, when and how you choose, and you do not waste valuable time traveling to the university. You will not be disturbed or distracted, which makes learning more effective.
The number of students enrolled exclusively in fully online programs increased to 5,8 million enrollments in the last few years.
We want to remove the boundaries present in current education systems by enabling you to study from anywhere in the world. No costly journeys, no time-consuming appointments during working hours. Free yourself with a study program at the GHU Campus - your destination for your continued education, from application to graduation.
The GHU Online Campus provides our students with everything they need to successfully complete their bachelor, master, or doctoral study programs. Students graduating from the GHU can easily find jobs in Business, Finance, or Law.