Study in Breda
Get a fully personalized list of programs in Breda that match your eligibility and aspirations.
See all programs in Breda
Why study in Breda?
Breda is a small, historic city in the southern part of the Netherlands. As a fortified city, it has played an important political and strategic role in Dutch history and is blessed with several historic sites including castles and gothic churches. Breda also has a large and social student population and is home to two large universities.
Students living in Breda can enjoy an annual jazz and photography festival, a host of museums and a wide range of exciting bars and restaurants. Breda is an easy city to get around on foot, however, there are also regular buses and the city is served by two railway stations. For those that want to get out and explore the area, Amsterdam is just over an hour away, as is the Belgian capital of Brussels.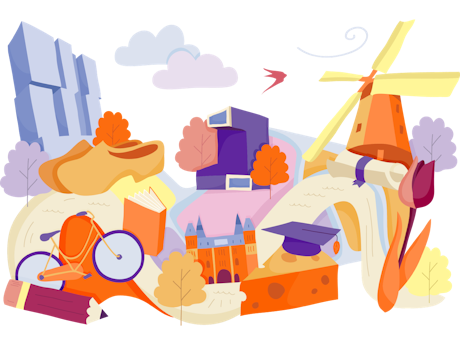 Student reviews for Breda
Avans University of Applied Sciences

Finance

Tell us about Breda

Breda is an international city. Almost the entire city speaks English and are welcoming. As an international student, it is easy to find jobs, place to socialise, and friends. The nightlife of the city is great. You have several bars and restaurant with different cuisines. The transportation in Breda or the Netherlands in general is outstanding, and fast.

Avans University of Applied Sciences

International Business

Tell us about Breda

Breda is a very cozy and lively city and it is truly an excellent experience to live here. I come from a large city in Australia (Melbourne) and I love the city of Breda. The city is altogether very small but has incredibly beautiful architecture and an abundance of great shopping areas. Not only this, but there are many cafés to be found to drink a coffee or have lunch with friends and many nice restaurants to eat at for dinner. In terms of nightlife, it is a very vibrant city at night because of the large number of students studying in Breda. Most nights towards the end of the week will always have many people in the city having drinks with friends or going out to bars or clubs.

Avans University of Applied Sciences

Environmental Science

Tell us about Breda

Breda is a magical city! In the summer time, there is so much to do outside, with all cafes, bars, venues, situated outside, with a beautiful view along the canal. There's a really nice bike ride to the lake (Haagse Beemden) which is a hotspot in the summer. The city is small, which is nice, as you can get anywhere by bike. It is a safe city, I have never felt threatened, even when riding my bike at night. I love small cities, as it quickly turns into home.

Avans University of Applied Sciences

Industrial Engineering

Tell us about Breda

The good thing about Breda is that you really just need a bike and you can reach every part of the city in no more than 15 minutes.
People are very happy to help you, for example I was searching for accommodation so I was asking strangers if they somehow knew a friend who was renting a house or a room, and everyone I asked was always willing to help me and I found a solution in just a couple days.
Transportation is very well structured, even if the university is not in the center of Breda, still is easy to reach the facilities.
How Studee can help you
Find your best matches

See programs that best match your eligibility and aspirations

Application guidance

We'll get you to the right place to start your application

Visa & travel advice

Get help after application, all the way to your first day at university
Our team of advisors is ready to support you at every step of your study abroad journey.
Our services are 100% free for students like you because we're funded by universities.