The USA is a top education destination, so it's understandable if you haven't considered studying abroad as a US student. According to NAFSA, less than 1% of US students studied abroad in 2020.
Many students are unsure of how they can study abroad from the USA but don't worry, we've outlined the process and shared some tips on how you can make it happen. It's a lot easier than it seems.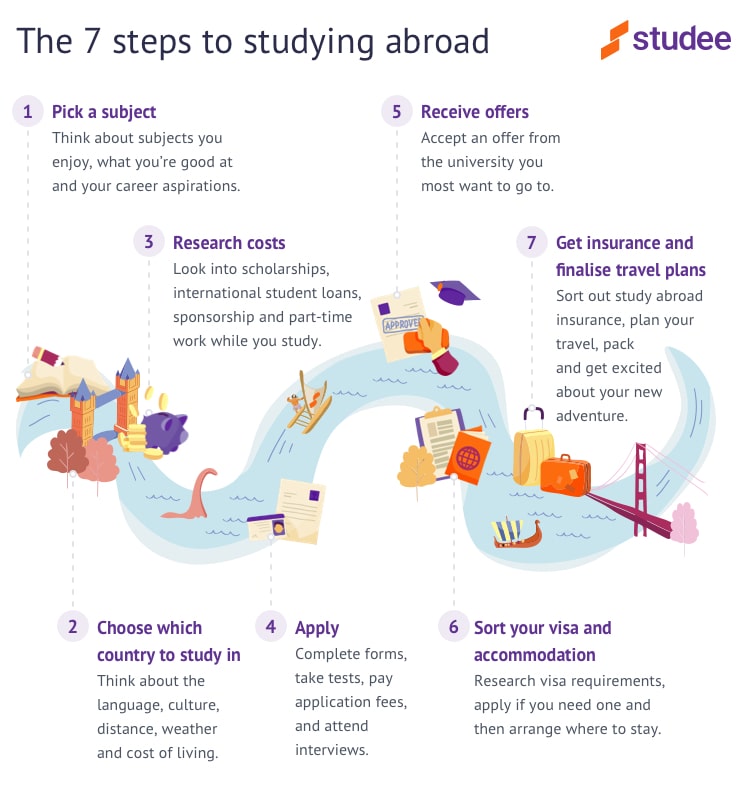 A huge benefit of studying overseas as a US student is that it can be a lot cheaper than studying in the US. You can save money on tuition fees, rent, food, and other living costs. It's also possible to study abroad for free. You'll also have many opportunities to:
Meet lots of new people

Learn a new language

Experience a different culture

Gain new skills

Explore a different country
NAFSA has also revealed how studying overseas is beneficial for student success and the US as a country:
Graduation rates for four-year courses are 18% higher

Can increase a student's grade point average (GPA)

36 million US jobs are linked to international trade

Creates more employable graduates
The US government has expressed strong support for international education. Ethan Rosenzweig, the US Deputy Assistant Secretary for Academic Programs said "it's more important than ever, that we renew our commitment to supporting international education initiatives to foster greater engagement and collaboration between scholars, researchers, and students worldwide".
Choose a course
Think about what you want to study and find a program that's offered at an overseas university. If you don't know what you want to study abroad, think about:
You're favorite subject at school

Your hobbies and interests

What your dream career is

How long you'd like to study for
Once you've chosen a course, think about the type of program you want to study. A bachelor's degree is the most common type of undergraduate qualification - the course length will differ depending on the country you study in but they usually take three to four years to complete.
There are also other types of qualifications like diplomas which are usually one year in length. You can also study for a foundation degree which are introductory courses to prepare you for a bachelor's degree.
It's also a good idea to look at university rankings for your chosen course. This will show you the best institutions to study at and can help you choose the right university for your needs.
Pick a country to study in
The country you study in will be your new home for the next few years, so it's important to choose a place you want to live in. Here are some factors to think about to help you decide on a location:
Language: If you're interested in learning a new language, studying abroad is a great way to make this happen.

Weather: Think about the climate you prefer and choose a country that has the right weather.

Culture: Each country has its own traditions, customs, and lifestyle. Some countries are famous for being chilled out, others are known for their hospitality, food, or faith.

Town or city: Ask yourself if you want to live in a busy vibrant city, or a peaceful town or village, this will help you to narrow down your choices.

Money: The cost of studying overseas will differ depending on which country you choose. If money is tight, look at universities with low fees - many institutions abroad are significantly cheaper than US ones.
Explore funding and scholarship options
It's important to work out how you'll pay for your course at the university of your choice. Check you're eligible for any funding or scholarship packages from your university, the government, or private organizations.
Each country will have its own criteria for awarding scholarships so make sure you do your research. Be sure to know how much your education is likely to cost and how you'll fund your studies abroad.
It's likely you'll need to prove you can afford to study in the country of your choice as part of your student visa application otherwise it may be rejected. You should have proof of how you will pay your tuition fees, rent, and other living expenses.
There are a number of ways you can fund your studies abroad including:
International student loans

A university grant or scholarship

Sponsorship from friends or relatives
Find out how to apply
The way to apply will be different depending on what and where you choose to study. Countries like the UK have centralized application services like UCAS. In other countries, you'll need to apply directly to the institution of your choice.
Look at your chosen university's website to learn exactly what you need to do to apply. You can also find the entry requirements there which will help you work out if you're eligible to enroll.
There are services available to help international students apply to universities abroad. Qualified advisors can guide and support you through the entire process - they'll help you find the right program and university for you.
Gather your documents
Once you've chosen a university and country to study in, you'll need to prepare your paperwork. The exact documents you'll need can vary between countries and institutions, but it's likely you'll need:
Proof of your exam results e.g. certificates

An essay explaining why you want to study your chosen course

A reference from a teacher

Copies of your identity documents like your passport, certified by a professional like a teacher
You may also need to pass a language test if your chosen program is in another language. However, many programs around the world are taught in English so passing a language test will not be needed for US students.
It's best to apply as soon as you can. Check the deadlines so you know when your application needs to be submitted. Applying as early as possible will allow you to deal with any issues or delays in good time.
Start your application
Lots of universities accept international applications online through their website or a centralized service like UCAS. You might need to create an online account with the institution or service before you can apply.
You may need to submit your certified identity documents online, you can do this by scanning the paperwork and attaching it to the application. Other universities may require physical copies and ask you to post the documents.
Many institutions accept documents written in English but you may need to get them translated if you're applying to study in a non-English speaking country or university. Make sure you check the exact requirements to avoid making common application mistakes.
Most universities and application services charge a fee to process your application. The amount you'll need to pay will depend on the country and university of your choice, but it generally ranges from $45 to $75. The fee can also be as high as $150.
The fee needs to be paid for your application to be considered. It's likely that you'll need to pay using a credit or debit card. The cost is usually non-refundable, so you won't get your money back if your application is rejected.
Attend a university interview
Most universities don't interview international students from the US. However, you may need to attend one if your course is incredibly popular or if the university you're applying to is highly ranked.
You may be able to arrange an online interview if you're unable to travel. However, attending the interview in person will give you a taste of the university's atmosphere which will help you decide if the university is right for you. You'll also have a chance to explore the city you'll be calling home for the next few years.
Wait for an offer
If your application to study abroad is successful, you'll receive an offer from your chosen university. There may be conditions attached to the offer, for example, if you haven't received your exam results yet, you can only study there if you get certain grades. When you've got the grades, you can accept your offer using the steps provided by the university.
If you've already done your exams and achieved the needed results, then you may receive an unconditional offer. In this case, you need to accept the offer by the given deadline, and your place at the university will be secured.
Find a place to live
Once you've accepted your university offer, think about arranging your student accommodation as soon as you can.
Some universities provide guaranteed on-campus accommodation for first-year students. You can also look at private housing in the city especially if your university doesn't provide housing. Other options like a homestay, which involves living with a local host family, may also be available.
Check your university's website or contact the institution's housing office directly to find out what your exact housing options are. There may also be online student housing groups where you can get accommodation help, tips, and guidance.
Apply for your visa
You'll need a valid student visa before you can travel to the country you'll be studying in, so make sure you arrange this as soon as possible.
The visa criteria and way of applying varies between different countries but it's likely you'll need to provide documents to prove:
You have a university offer

Where you will live

You have money to support yourself

Your identity e.g. passport and photographs
You may be able to submit your application online. Some countries may ask you to attend their embassy or consulate in the US.
Get study abroad insurance
It's important to have an international student insurance policy before you travel to your new study destination. This will help you cover the cost of things like:
Flight cancellations

Loss or theft of personal items

Course fees if you change your mind
You may also need student medical insurance but this will depend on the university and country. If you're unsure about needing insurance, contact your university to find out the exact information.
Get packing
Now that you've got everything in place, it's time to prepare for your student life abroad.
Make a packing list to make sure you have everything you need. Next, book your flights and get ready to travel. Many universities have pick-up services - they'll collect you from the airport and welcome you so check if this is available for you.
Start your university journey
Your university will be on hand to help you with everything when you arrive. You'll have an induction week that includes campus tours and events to help you settle in and make lots of friends.
Many universities provide helpful student support services to assist you with any questions or issues you have. Whether you're struggling with the local culture or need help with completing a form - someone will be by your side.