If you're a UK student thinking of going to university, you may not have considered the option of studying abroad. Although the UK boasts some of the best universities in the world, there are lots of benefits to getting your degree overseas.
Not only is it a great opportunity to see the world, meet new people, experience a different culture, and learn a new language, but it could be a cheaper option too. The process is easier than you think - here's how you could study overseas as a UK student.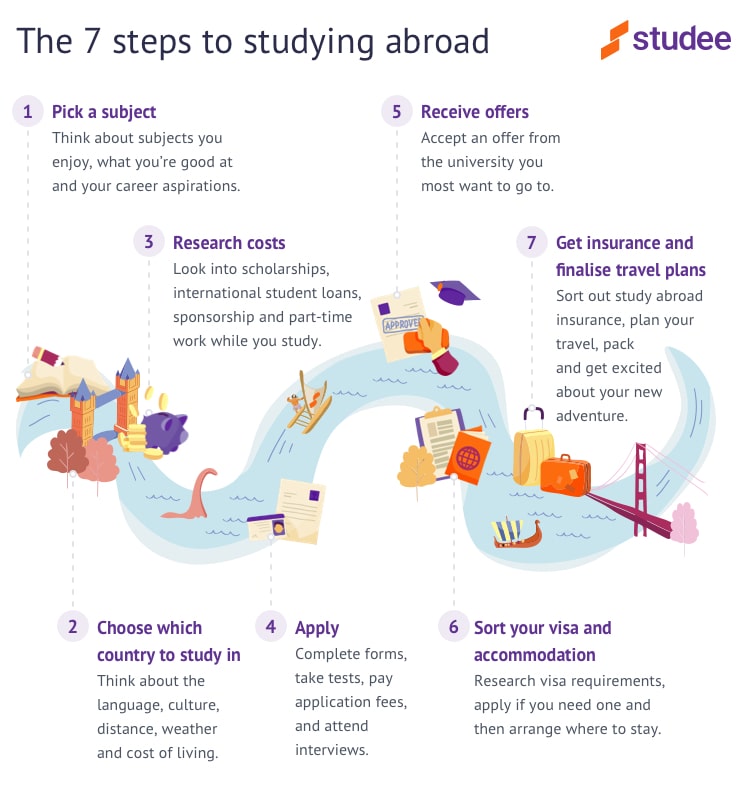 The global coronavirus pandemic has caused unprecedented disruption all over the world, and could affect your plans to study overseas. Here is everything we know about the impact of COVID-19 on studying abroad.
Pick a subject and course
You may know exactly what you want to study, or simply know that you want to go to university but aren't sure which degree is right for you. One of the great things about studying abroad is that you can expand the number of courses you can choose from.
To help you find the right course to study abroad, think about:
What subjects you enjoy studying at school

What hobbies you have - could this be something you could study at university?

Your career goals - if you know what you want to do after you graduate, choose a degree that will help you get there

How long you want to study for - some courses take longer to complete than others
Once you know which subject you want to study, think about what type of course you want to take. The traditional undergraduate degree is a bachelor's, which will take three or four years to complete depending on the country you are studying in.
However, it's also possible to study for a diploma degree, which tend to be one year in length, or foundation level courses which act as an introduction to a bachelor's.
It might also be worth looking at university rankings for the subject you want to study to help you decide which institution to apply to. These will show you which universities offer the best courses for your chosen subject.
Choose where you want to study
One of the biggest, and most exciting, decisions you need to make is where you're going to study. Chances are you'll spend at least three years studying abroad, so you need to make sure you choose a location that you'll be happy living in. Here are some things to consider:
Language: Living in a country that speaks a different language to your native tongue can be a great opportunity to pick up a new skill. If you don't fancy learning a new language, consider countries that speak English like the US, Canada or Australia.

Culture and lifestyle: Every country has its own unique way of life, so it's a good idea to look at those that best match your own. For example, some countries are known to be laidback, others are famous for their work ethic, adventurousness, or spirituality.

Climate: Think about what climate you'd most enjoy living in. Studying abroad could be a chance to escape the unpredictable British weather and enjoy a few years of sun.

City or country: You can narrow down your search by working out if you'd rather live in a city or a more rural location. Choosing to study overseas means you could live in one of the world's most vibrant and culturally rich cities.

Cost

:

The cost of studying abroad

can vary wildly from country to country, so if you're on a tight budget look for those countries and universities with lower tuition fees. Even with the added cost of travel, some locations could be cheaper than studying in the UK.
If you're worried about how Britain leaving the EU could affect you studying abroad, read our up to date Brexit guide for international students.
Create a short list of the courses
As you would in the UK, you should make up a shortlist of up to six universities and courses you want to attend. This way you can increase your chances of getting a place, but it's important you only include universities you'd be happy living and studying at, and that you assess the entry requirements as might need to pay application fees.
Although this will take a bit longer as you may have to apply several times, and you'll need to pay for each application, it means you can apply to courses that might be harder to get admitted to knowing you have backups if you're unsuccessful.
Look at funding and scholarship options
Although tuition fees can be much lower abroad, and even free in some European countries, you'll still need to work out how to finance your studies. You won't be able to get a UK student finance loan if you choose to study overseas, so you may need to look for funding elsewhere.
It's important you have proof that you can afford to cover the cost of the tuition and living costs when you apply for a student visa. If you can't show that you can support yourself for the full time you're studying abroad, your visa application may be rejected. You could get funding through:
An international student loan

A sponsor, like a parent or family member

A scholarship from an organisation or the university you're applying to

Part-time work while you study
Check the application process
The exact application process will be different at each university and in each country. Some countries have similar centralised systems to UCAS in the UK, but for many you need to apply directly to the university.
You should check the university's website to see what application process you need to follow, and what their entry requirements are.
Many students who want to study abroad use an international admissions service to help with their application. Advisors can assist you in finding a university that matches your ambitions, and can also walk you through the application process all the way through to admission.
Collect your paperwork
When you're ready to apply to a university overseas, there's a number of documents you'll need to get together to make your application. These include:
Your A-level results qualifications and certificates (if you haven't received them, you should give your predicted grades)

A letter of recommendation or reference, usually from one of your teachers

An essay or personal statement that outlines your interest in the subject

Certified copies of personal identification, including your passport
If the program you've applied to is taught in another language, you will need to prove your ability in that language. However, many university programs for international students are taught in English, so in this case you wouldn't need to provide proof of your language skills.
It's a good idea to apply as early as possible to universities, and make sure you find out when the application deadlines are. These are usually several months before the start of term, but the sooner you apply and are accepted, the sooner you can begin planning your travels.
Submit your application
Many universities let you apply online through their site, or a third party site similar to UCAS (e.g. Netherlands, Denmark and Sweden). You may need to register and create an account with the university first before you can complete your application.
To submit your documents online, you may need to make certified copies, and then scan and attach them to your application. Some universities will also ask for original documents to be sent in the post.
If you're applying to a non-English speaking country, you may need to have your documents translated, however most do accept them in English. To find out the exact application process, go to the university's website and follow their instructions carefully.
To help your application go as smoothly as possible, read these university application mistakes to avoid.
Pay application fees
A lot of universities will charge you a fee as part of the application process. This can vary depending on the country and university, but they can be as low as £50.
You'll need to pay this when you submit your application, often using a credit or debit card. These fees are usually non-refundable, so if your application is declined, or you choose not to accept an offer from the university, you won't get your money back. If you are accepted, the fee may be deducted from your tuition fees.
Attend interview or sit admission test
Chances are you won't need to worry about attending an interview or taking a test as part of your application, but some universities will require one or the other.
These tend to be reserved for the most competitive courses at the most prestigious universities where places are in high demand. It's usually possible to attend any interview over the internet, but if you're able to go in person it will give you a great opportunity to get a feel for the university and city you'll be living in.
Receive your offer
If your application is successful, you will receive an offer letter from the university. As in the UK, your offer may be conditional if you haven't yet completed your A-Levels.
The letter should outline what grades you'll need to get in order to be accepted, and you will also need to provide proof of your grades once you've got your results.
You may receive an unconditional offer, which means you have met all the required academic and non-academic requirements for entry to the university. The letter should outline the steps you need to follow to accept the offer, and may also give you a deadline you have to respond by.
Arrange your accommodation
The next thing to do will be to try and sort out your accommodation as soon as possible. Many universities guarantee accommodation for international students to make it as easy as possible for you to settle into your new life.
The university may provide information about your accommodation options together with your acceptance letter. If not, contact them asap to see what you need to do to secure a place in a halls of residence.
It is possible to rent private accommodation, but this can be tricky for an international student, especially if you don't speak the language. Many universities require you to live on campus for at least the first year unless you meet certain criteria.
Sort out your visa
This is a key part of studying abroad, and something you must have arranged before you travel to start your education in a new country.
If you're going to study in another EU country after 31 December 2020, make sure you meet all their visa requirements. If you do not, you may not be allowed to stay following the end of the Brexit transition period.
The process of getting your visa and the type you need will differ depending on the country you're studying in, but most applications require:
Proof of your place at a university in that country

Proof of accommodation

Identification documents

Proof of funds to support yourself

Passport size photographs
Some countries let you apply for your visa online, but others require you to visit one of their consulates or embassies in the UK.
Get student insurance
Before you travel, make sure you have a study abroad insurance policy in place. An important thing to remember is that you won't be able to use the NHS when you're studying overseas, and medical bills can be expensive, so having cover in place is essential.
Student insurance can also cover:
Personal belongings

Course fees if you have to cancel your trip

Lost passport
Some universities require you to have medical insurance before you travel, and some countries also ask you to complete a health check, or require you to have vaccinations. If you don't know if these apply to you, check with the university before you travel.
Create travel itinerary
Once you've been accepted and have your visa and insurance sorted, you can start getting ready to plan your adventure studying abroad.
Make sure you make a thorough packing list that includes everything you'll need while you're studying abroad.
Start thinking about planning your flights and reading up on what you need to do when you arrive. Most universities offer services like airport pick ups for international students to make sure you receive a warm welcome on your arrival.
Arrive at university
When you arrive, the university's international student department will be on hand to help you find your accommodation and make sure you register and enrol at the university. For your enrollment you'll need several documents including your passport and visa.
International student staff also offer a range of support services that you can use during your time studying abroad. These can include counseling, as well as support with any academic issues you might have, or technical help with visas or finding a job.
You will also take part in an international student induction and orientation, which will include a tour of the campus and local area and give you all the important information you'll need. It can also include help with things like setting up a bank account if you need one.