It's hard to imagine celebrities rushing to class, burying their heads in textbooks and living in student accommodation, but that's exactly what some of our favorite stars have done.
From sports people to actors, comedians to authors, we've scoured the internet to find 15 of the most surprising celebrity degrees.
These celebrities have eye-watering net worths that far exceed the average salaries of the students they used to share a class with. We've ranked the celebs in order of the number of years it would take a graduate with the same degree to equal their income.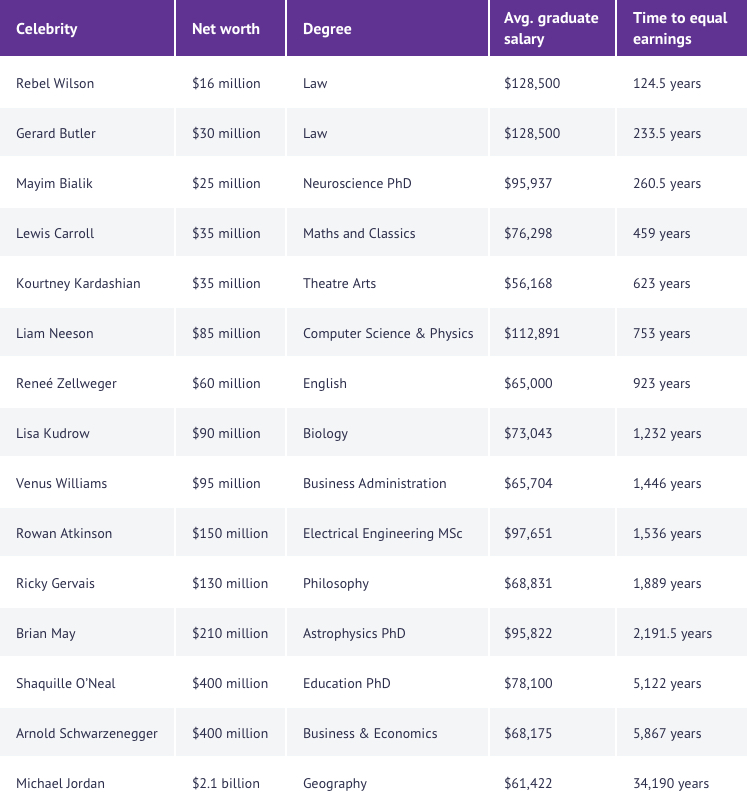 15. Rebel Wilson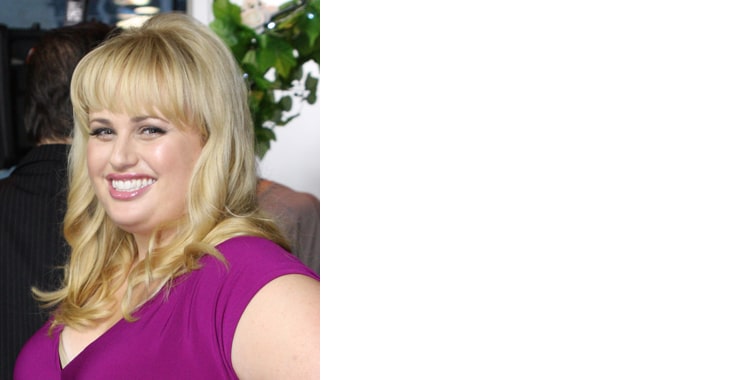 Attribute: Eva Rinaldi/Wikimedia She's one of the industry's most entertaining comedic actresses, but Rebel Wilson was undertaking some serious studying before getting her big break.
The Hollywood starlet earned a bachelor's degree in Law from the University of South Wales in her home country of Australia.
Net worth: $16 million

Average annual salary of a graduate with an LLB: $128,500

Time needed to equal earnings: 124.5 years

14. Gerard Butler:

Attribute: Gordon Correll/Flickr He's one of the globe's biggest blockbuster movie stars, but Gerard Butler narrowly missed out on a career as a lawyer.

Butler gained a bachelor's degree in law from the University of Glasgow and landed a trainee position at a local law firm, only to be fired a week before he was due to qualify because of his wild partying. You could say it worked out quite well for him.

Net worth: $30 million

Average annual salary of a graduate with an LLB: $128,500

Time needed to equal earnings: 233.5 years

13. Mayim Bialik:

Attribute: Jam Ong/Flickr Best known for her role as neuroscientist Amy Farrah Fowler in The Big Bang Theory, actress Mayim Bialik studied neuroscience in real life too.

Despite being offered places at the prestigious Harvard and Yale universities, Bialik decided that the University of California was the right institution for her PhD studies.

Net worth: $25 million

Average annual salary of a graduate with a PhD in neuroscience: $95,937

Time needed to equal earnings: 260.5

12. Lewis Carroll:

Attribute: Wikimedia Carroll is better known for his literary abilities than his mathematical prowess, but the author actually graduated from the University of Oxford with first-class honors in mathematics and classics.

During his time at Oxford, Carroll came up with the idea for his infamous Alice's Adventures in Wonderland.

Net worth: $35 million

Average salary of a graduate with a bachelor's in mathematics and classics: $76,298

Time needed to equal earnings: 459 years

11. Kourtney Kardashian:

Attribute: Glenn Francis/Wikimedia You might associate the Kardashian clan more with Instagram than academics, but Kourtney Kardashian graduated from the University of Arizona with a bachelor's degree in Theatre Arts.

Now we come to think of it, a theatre program was the ideal preparation for Kourtney's later career as a scripted reality TV star.

Net worth: $35 million

Average salary of a graduate with a bachelor's in theatre arts: $56,168

Time needed to equal earnings: 623 years

10. Liam Neeson:

Attribute: Georges Biard/Wikimedia Some of our favorite movies like Star Wars, Batman Begins, Taken, and Love Actually would've looked very different if Liam Neeson had pursued a career related to his degree.

The much-loved actor studied computer science and physics at Queen's University Belfast before (thankfully) realizing his passion for performing.

Net worth: $85 million

Average salary of a graduate with a bachelor's in computer science and physics: $112, 891

Time needed to equal earnings: 753 years

9. Reneé Zellweger:

Attribute: Siebbi/Wikimedia Much like her character, Bridget Jones, a singleton who records the trials and triumphs of love in her trusty diary, Reneé Zellweger also has a passion for the written word.

The Oscar-winning actress studied English at The University of Texas. It was here that she took an elective drama course and discovered her love of acting.

Net worth: $60 million

Average salary of a graduate with a bachelor's in English: $65,000

Time needed to equal earnings: 923 years

8. Lisa Kudrow:

Attribute: TheBuiBrothers.com/Wikimedia Lisa Kudrow is famed for playing the eccentric and quirky Pheobe in the hit American sitcom Friends.

But before hanging out with the likes of Jennifer Anniston, David Schwimmer and Matt LeBlanc at Central Perk, Kudrow was studying hard for a degree in biology at Vassar College.

Net worth: $90 million

Average salary of a graduate with a bachelor's degree in biology: $73,043

Time needed to equal earnings: 1,232 years

7. Venus Williams:

Attribute: Ken Maynard/Flickr As one of the best female players to ever grace the court, Venus Williams has enjoyed a glittering career on the court.

Alongside her countless championships and medals, Venus also has a bachelor's degree in business administration from Indiana University East under her belt.

Net worth: $95 million

Average salary of a graduate with a bachelor's in business administration: $65, 704

Time needed to equal earnings: 1,446 years

6. Rowan Atkinson:

Attribute: Eva Rinaldi/Wikimedia It's hard to believe that the actor behind awkward and clumsy characters like Mr Bean and Johnny English is a qualified electrical engineer.

Rowan Atkinson earned a BSc in electrical engineering from Newcastle University before pursuing a Master's at Queen's College, Oxford.

Net worth: $150 million

Average salary of a graduate with a master's in electrical engineering: $97, 651

Time needed to equal earnings: 1,536 years

5. Ricky Gervais:

Attribute: Thomas Atilla Lewis/Flickr Gervais's distinctive sarcasm and dark humor have transformed him into an internationally-celebrated comedian, writer, actor, and producer.

It was while studying for a philosophy degree at University College London that Gervais developed some of his funniest material and characters.

Net worth: $130 million

Average salary of a graduate with a bachelor's degree in philosophy: $68, 831

Time needed to equal earnings- 1,889 years

4. Brian May:

Attribute: Bill Ingalls/Flickr Legendary Queen guitarist Brian May met his fellow band members while studying astrophysics at Imperial College London.

After enjoying great success, May abandoned his doctorate studies to tour the globe with Queen. He eventually decided The Show Must Go On and completed his PhD in 2007.

Net worth: $210 million

Average salary of a graduate with a PhD in astrophysics: $95,822

Time needed to equal earnings: 2191.5 years

3. Shaquille O'Neal:

Attribute: Keith Allison/Wikimedia The four-time NBA champion can add a doctoral degree in education to his already impressive list of achievements.

After cutting short his bachelor's education to join the Orlando Magic, O'Neal returned to college to finish his undergraduate degree, earn a master's, and then graduate from Barry University with a PhD.

Net worth: $400 million

Average salary of a graduate with a PhD in education: $78,100

Time needed to equal earnings: 5,122 years

2. Arnold Schwarzenegger:

Attribute: Gage Skidmore/Wikimedia Before becoming a movie icon, world-champion bodybuilder, and controversial politician, Schwarzenegger was studying a bachelor's degree in international business and economics at the University of Wisconsin-Superior.

Judging by the star's vast business empire, it's clear that he's put his degree to good use.

Net worth: $400 million

Average salary of a graduate with a bachelor's in business and economics: $68, 175

Time needed to equal earnings: 5,867 years

1. Michael Jordan:

Attribute: Steve Lipofsky/Wikimedia Dubbed the greatest player of all time, MJ had only just begun his degree in geography at the University of North Carolina when he was drafted by the Chicago Bulls.

After a record-breaking career and six championships, Jordan returned to UNC to complete his program.

Net worth: $2.1 billion

Average salary of a graduate with a bachelor's degree in geography: $61,422

Time needed to equal earnings: 34,190 years